Our sustainable products
We make continuous effort to develop our "Green Comfort© Products" which are made of eco-friendly materials that can be returned to nature or recycled.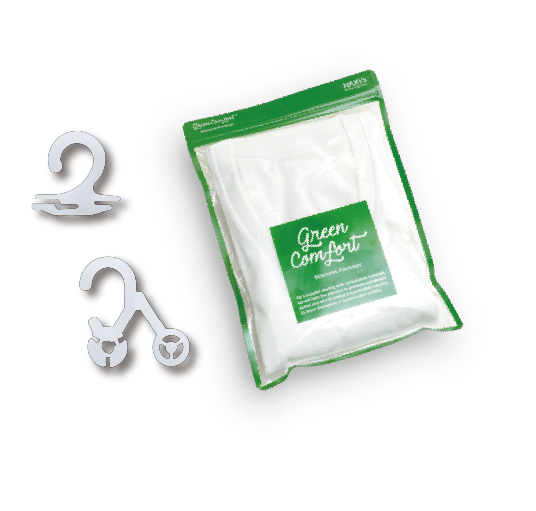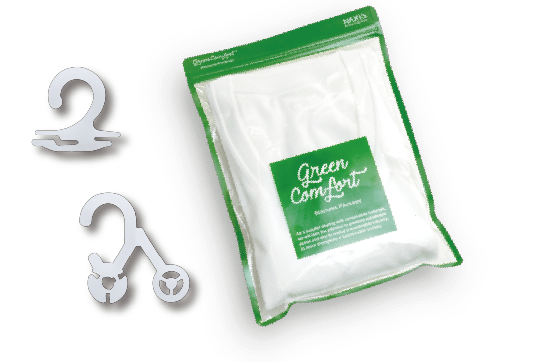 Working toward the realization of a low-carbon society as increasingly demanded worldwide, we have lined up film materials, printing inks, and plastic hooks as biomass-based (plant-derived) raw materials/materials. We use raw materials that are capable of reducing CO2 in their product life cycle and which have acquired Biomass Mark certification from the Japan Organics Recycling Association, leading to CO2 reduction that will contribute to the prevention of global warming.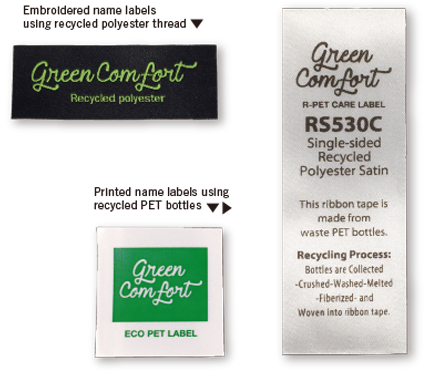 Since label materials serving as important "faces" connecting brands and consumers, we propose the use of woven labels with recycled polyester thread, and ribbon tape care labels and print names made from recycled PET bottles. We also have a lineup of various items such as recycled polyethylene hooks and tag fasteners made from resin recycled from polypropylene (PP) cutting scraps, and shipping sacks made from 100% discarded polyethylene (PE).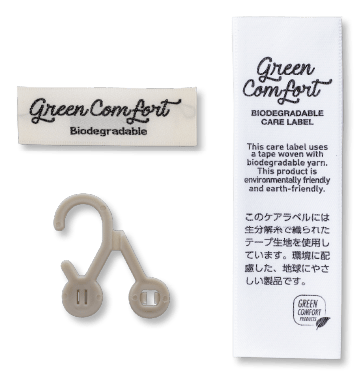 Items such as woven labels and care labels using polylactic acid (PLA) thread, developed to be used in apparel or linen products, have been improved to have superior durability compared to those with conventional PLA threads and to enable dying. It is also possible to add antibacterial and other functions. PLA hooks and tag fasteners are also available.
We also propose woven labels that can be returned to nature, using cupra yarn made from cotton linters and recycled fiber rayon, as well as acetate satin print labels made from wood pulp cellulose.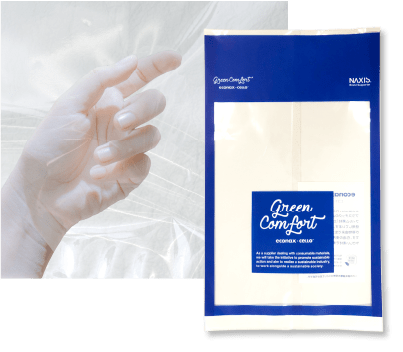 Cellophane is made from viscose, a raw material derived from wood pulp. Although this material has a long history, having been developed in the early 1900s, it has come to be used less often as a packaging material due to the rise of petroleum-derived films. At NAXIS, we gave renewed attention to this naturally-derived material with plastic-like transparency, and developed it as a packaging material. Since its release, it has received excellent feedback and has been widely used.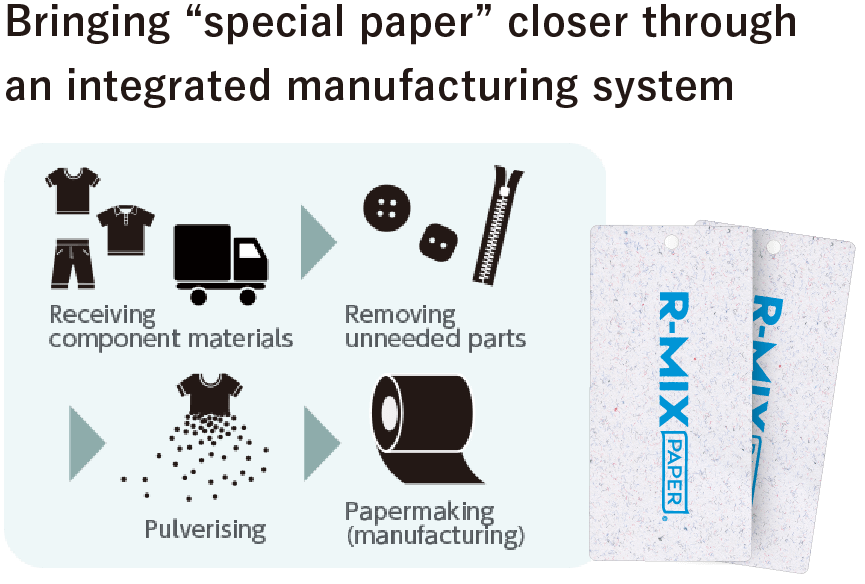 This proprietary mixed paper is made by mixing raw materials such as cutting scraps of cloth, unwanted clothing, and food waste. It is an earth-friendly paper material that reduces waste and contributes to a recycling-based society. Objects that have been discarded can create new value.
After removing unneeded parts (clothing buttons, fasteners, etc.), the materials are pulverized and processed to produce the paper. We handle all steps from receiving component materials to manufacturing base paper.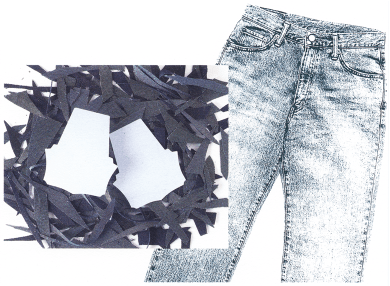 In 1993, we proposed the recycling of cutting scraps as a solution to a jeans manufacturer's problem of how to dispose of denim scraps generated during production. We began joint development with a paper manufacturer and succeeded in mass-producing paper from denim scraps. We introduced this as "Denim Rug© Paper". This product is now widely used, not only for tags and back pocket flashers, but also as commercial printing paper for pamphlets, envelopes, stationery, and packages, and it is now enjoying continued popularity as a new standard for fancy paper.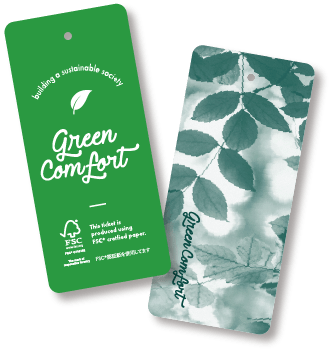 The Forest Stewardship Council® (FSC®) is an international non-profitable organization that promotes responsible forest management worldwide. The FSC® was established in 1994 primarily by environmental groups, forest traders, forest product trading companies, and indigenous groups against the backdrop of rapidly increasing destruction of forests, based on the philosophy that forests should be managed appropriately from the viewpoint of environmental conservation, in a manner that benefits society and is economically sustainable. FSC® is the most widely accepted forest certification system.
NAXIS has received FSC certification at almost all of its domestic and overseas bases.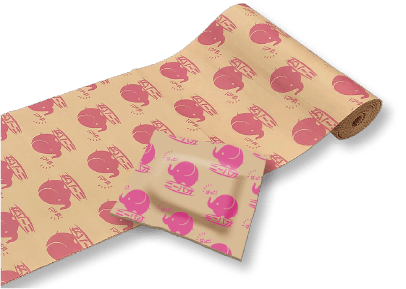 NiPAO© is a new packing material that enables you to quickly wrap and tightly pack a product and send it out right away. With self-adhesive glue applied to the corrugated face of a single‐faced corrugated fiberboard, the product is uniquely designed in such as way that adhesive surfaces stick firmly to each other but do not stick to the item inside. Unlike cardboard boxes, packaging this way is easy, saving you the trouble of assembling or packing with sticky tape. Your own design can be printed on its surface by using flexographic printing techniques.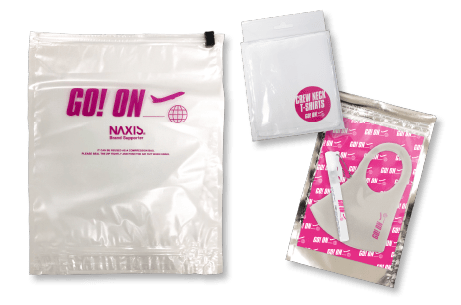 Compression bag/Vacuum package
A compressed bag allows you to easily let air out by hand after putting a product in the bag, which enables compact shipping in e-commerce situations and between individuals. Reducing package size leads to the reduction of shipping costs. It is also a reusable package that can be used for various secondary purposes such as for compact storage of goods in a travel bag or a closet.
A vacuum package guarantees flat and compact packaging, which in turn saves space. Due to its sealability, the product is also excellent for hygiene application. It is an energy-saving package that helps to save space when storing products in a warehouse while also ensuring simpler product display.